Vtiger Outlook Plugin
This Vtiger Outlook Plugin makes your life easy to manage your emails, calendar tasks, contacts and many more things for just few clicks. In most of the small and medium businesses, E-mail and CRM applications are stacked incrementally in an IT infrastructure over a period of time. Initially e-mail service plays a vital role in communicating with customers. Once the business expands to a stage where it is very difficult to manage customers with the existing e-mail service, companies look for more sophisticated customer relationship management solutions. By that time, usage of e-mail service would have become popular and users as well as IT managers would feel reluctant to give up the existing e-mail service for different reasons. At the same time, they would like to use the CRM systems to increase the productivity.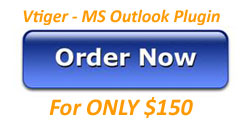 Order Vtiger Outlook Plugin & make your life easy.
In a broad perspective, Customer Relationship Management solutions (installed as well as hosted) and e-mail services complement to each other. Most of the surveys reveal that the Microsoft® Outlook® e-mail service is one of the top most available e-mail clients in the market. The Vtiger Outlook Plugin for Microsoft® Outlook® that we sell is a fully functional, enterprise grade business productivity enhancement utility and it is evolving rapidly based on client feedback.
Key Features
Synchronize contacts between Microsoft® Outlook® and Vtiger CRM
Add customer-related incoming and outgoing E-mail messages from Microsoft® Outlook® to contacts in Vtiger CRM
Filter E-mails in Microsoft® Outlook® and add only necessary e-mails to Vtiger CRM
Synchronize customer-related tasks between Microsoft® Outlook® and Vtiger CRM
Synchronize customer-related calendar (calls and meetings) between Microsoft® Outlook® and Vtiger CRM
Resolve conflicts if there are any mismatch between Microsoft® Outlook® and Vtiger CRM data (contacts, tasks, and calendar)
Vtiger Outlook integration works as below
Before adding or synchronizing Microsoft® Outlook® e-mails and contacts to Vtiger CRM running instance, provide the Vtiger CRM instance login details in Microsoft Outlook as follows:
Start the Microsoft® Outlook®.
Select the Tools –>Options menu.
In Options dialog, select the Vtiger CRM tab and enter the following user settings:

User Name: Enter the user name.
Password: Enter the password.
Host Name: Enter the Vtiger CRM live server name as "www.website.com/VtigerCRM/".
Remember Password: Select the check-box if you want to remember the login details.

Click the OK button to apply the changes.
Now start working with Vtiger and Outlook using our Plugin.

Additionally if you wish to hire us to install Free Community Vtiger version too. Our additional service charge for the installation would be USD150 Order Now