Custom CRM Software
Custom CRM Software development from scratch is always a painful task. Developing a crm & sales software from nothing, will demand much of your quality time, money and once developed will throw up lot of bugs if the built functions are not tested inside out throughout the development process.
Unless you have real good reasons and a big budget for a scratch development we do not recommend to develop a Custom CRM Software from scratch but to use freely available, tested, robust, free open source CRM Software's like Vtiger CRM, SugarCRM and OpenERP and further customize it from there to suite your business requirements and software automation needs. You can go through our live Demo and follow our easy to use User Guide to custom create or get an idea of the basic structure of the Customer Relationship Management Software.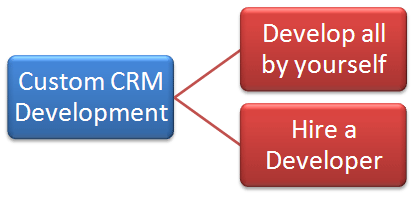 Custom CRM Service elaboration
For those with small budget our Custom CRM development service is offered to develop your personalized CRM Software by virtually working at our remote office in India away from you. But if you have a large budget(More than USD15,000 within India and more than USD50,000 anywhere in any country outside India) then we will be glad so send one of team members for initial consultation for a weeks time at your location where our team member will understand your requirement and in agreement will create a brief wire frame of the job which can then be expanded more while working remotely. So fill up our form at Request a Quote page and our CRM Software Development team will develop your CRM & Sales Software which is essential for business automation to stay ahead of the competition. Software automation applied with information from daily business activities helps achieve a CRM Solution that satisfies both the internal and external demands of the company. Customer Relationship Management(CRM) Software is no longer restricted to only Customer Relationship Management but has moved over to business intelligence involving other important areas like integrating it with Android and IOS apps, email marketing tool, social medias and such other independent tools. When you apply these insights into actions by hiring our CRM Developer for your CRM software automation, we are sure that you will have a competitive advantage.
All said – each business is unique and therefore requires special attention to perfection to achieve office automation. This gives every reason for you to get your business automated in a customized way.
CRM Development helpful links:
1] What is a CRM Software and how to use it?
2] Customize Vtiger CRM, Customize Sugar CRM all by yourself
3] Hire CRM Developer, Hire CRM Programmer
If you wish to have a Custom CRM developed for your business then contacts us on info at crmprogrammer dot com and hire our CRM Developer or CRM Development Team to customize one for you.